It seems to be a Balinese saying which
Sister Corita Kent
borrowed to describe what she was up to with her art classes at Immaculate Heart College for about 30 years:
We have no art, we do everything as well as we can.
Starting around 1938, Corita Kent lived in the community and taught at the private religious and art school in Los Angeles. Her classes continued until around 1968, by which time they attracted avante-garde artists and social activists from around the world including
Charles and Ray Eames
,
Buckminster Fuller
,
John Cage
,
Alfred Hitchcock
, and
Saul Bass
. By the time she left the College, she had appeared on the cover of
Newsweek
magazine: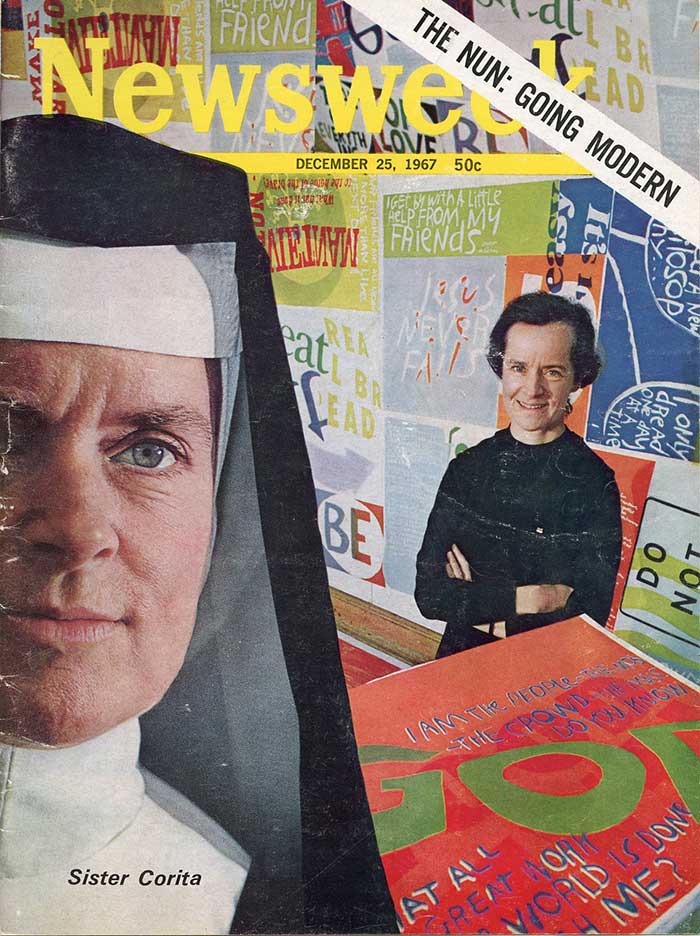 Corita Kent was also already the subject of a 1967 documentary by Baylis Glascock, "We Have No Art." This film catches Kent at her lucid, modest, powerful best in the act of teaching. We are going to watch
some choice excerpts
from a 30-minute excerpt posted online.
Corita Kent worked most substantially in prints, typically roughly assembled silkscreens. Her source material was found close by, including the neighborhood Safeway supermarket where for example she sourced the colored dots from a bag of Wonder Bread to make this transcendent print, Wonderbread (1968):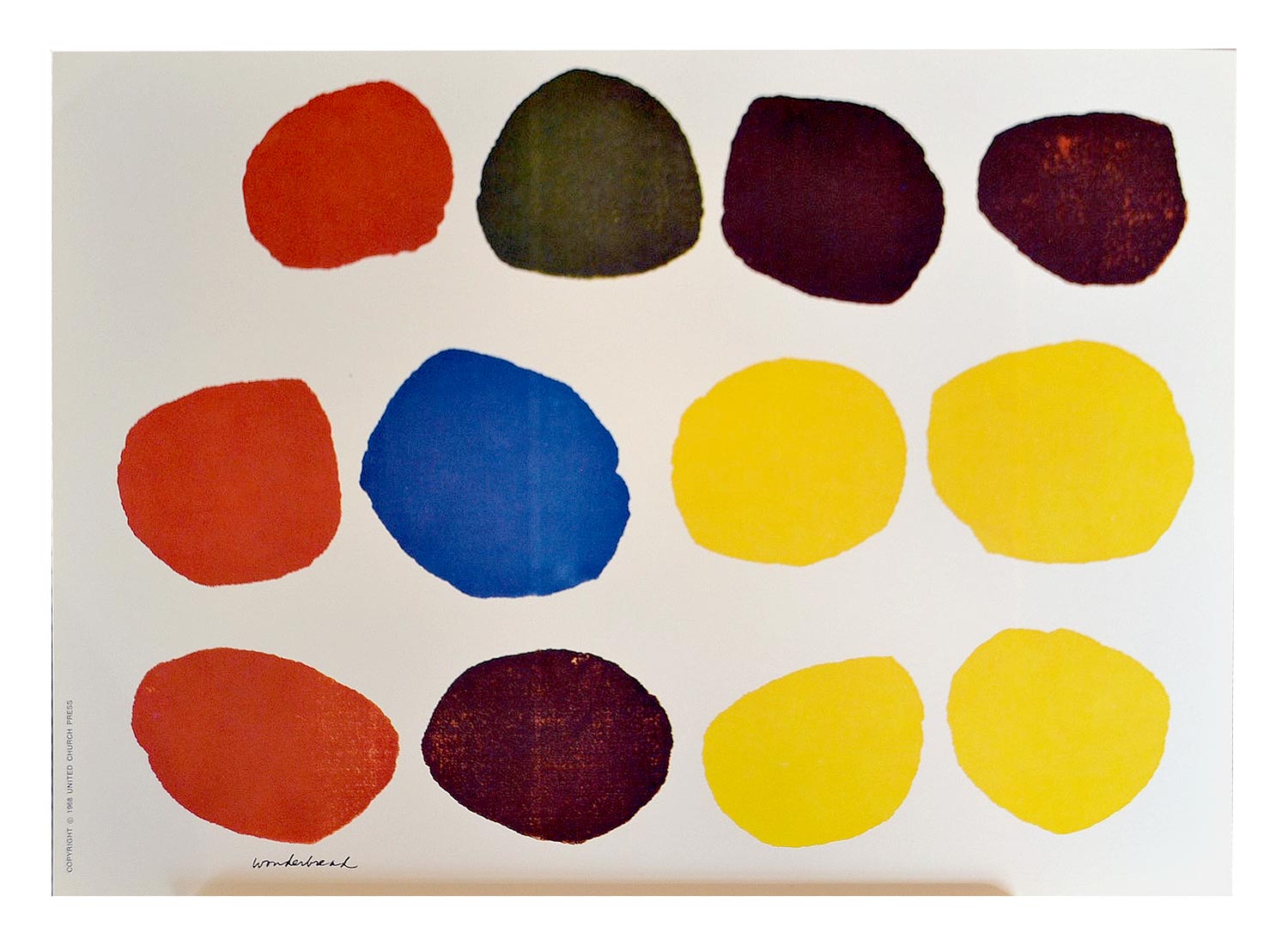 These were rough and ready prints, assembled from materials found close at hand. They were also excuses to work together, and to learn as a group. This picture captures something of that spirit: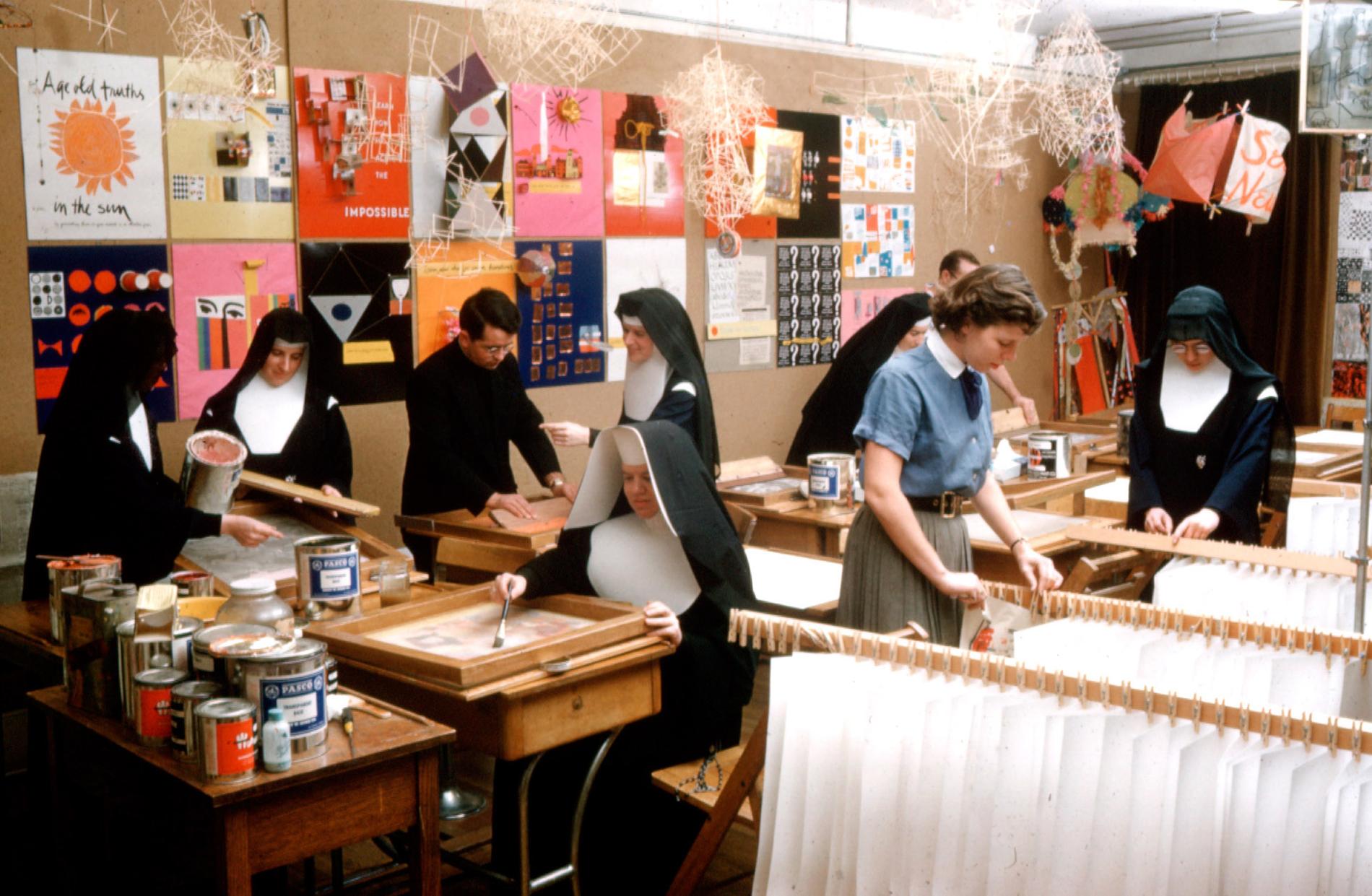 Her and her students' prints were vehicles for a particular flavor of spiritual messages which mixed a benevolent Catholic mysticism with reaching out to the secular world in all of its complexities. She described this medium in particular in how and what she hoped to accomplish:
[printimaking] enables me to produce a quantity of original art for those who cannot afford to purchase high-priced art. … The distribution of these prints to everyday places of work pleases me, and I hope they will give people a lift.
Corita Kent's work has been widely shown since. In the last few years there are at least two exhibitions which I would like you to have a look at.
"Corita Kent and the Language of Pop"
was initiated at the Harvard Art Museum in 2016 and tracks parallel streams in Kent's work and contemporary art of the time.
"Someday is Now: The Art of Corita Kent"
originated by the Frances Young Tang Teaching Museum and Art Gallery at Skidmore College looks like it was especially strong. That exhibition also produced an exceptional publication designed by
Barbara Glauber
, an independent graphic designer, writer, and teacher in New York.
As sometimes happens in such a comprehensive book project, Barbara became deeply involved with its subject matter. This is hardly surprising given the amount of time a book project like this takes. From the material, Barbara devised
a talk delivered at Cooper Union
in New York. We will watch that in class.
February 14, 2023
"We have no art, we do everything as well as we can."
Reading