And so
It feels different this time.
In the June 28, 2020 issue of The New York Times Magazine Nikole Hannah-Jones continues.
Black Americans protesting the violation of their rights are a defining tradition of this country. In the last century, there have been hundreds of uprisings in black communities in response to white violence. Some have produced substantive change. After the assassination of the Rev. Dr. Martin Luther King Jr. in 1968, uprisings in more than 100 cities broke the final congressional deadlock over whether it should be illegal to deny people housing simply because they descended from people who had been enslaved. The Fair Housing Act, which prohibits housing discrimination on the basis of race, gender and religion, among other categories, seemed destined to die in Congress as white Southerners were joined by many of their Northern counterparts who knew housing segregation was central to how Jim Crow was accomplished in the North. But just seven days after King's death, President Lyndon B. Johnson signed the act into law from the smoldering capital, which was still under protection from the National Guard.
This mural appeared on Fulton Street in the Bedford-Stuyvesant neighborhood of Brooklyn barely two weeks before the article was published. I took my 14-year-old daughter before it was finished and it was deeply moving.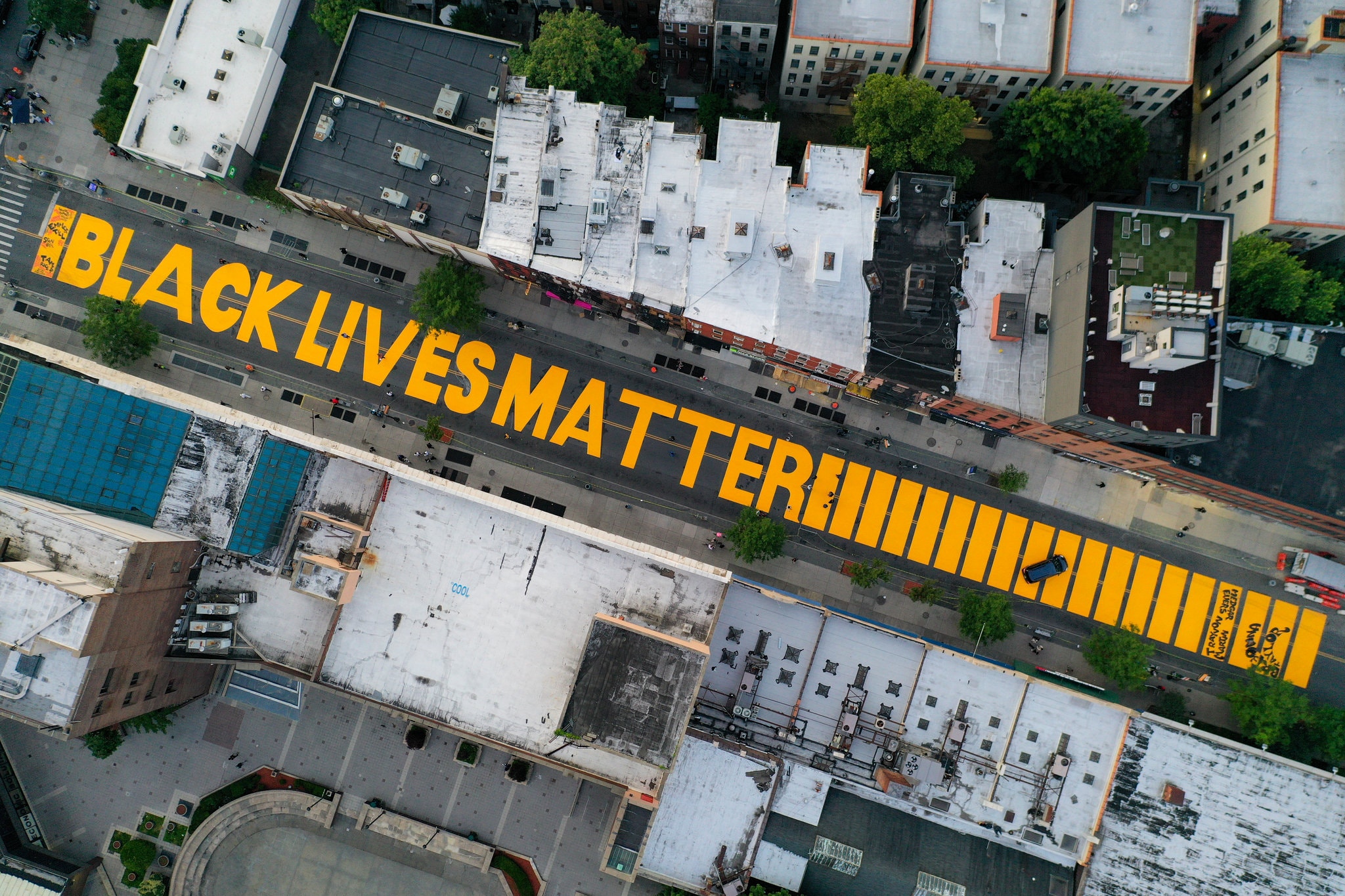 Here (above) is a view from above.

Most of the time these uprisings have produced hand-wringing and consternation but few necessary structural changes. After black uprisings swept the nation in the mid-1960s, Johnson created the Kerner Commission to examine their causes, and the report it issued in 1968 recommended a national effort to dismantle segregation and structural racism across American institutions. It was shelved by the president, like so many similar reports, and instead white Americans voted in a "law and order" president, Richard Nixon. The following decades brought increased police militarization, law-enforcement spending and mass incarceration of black Americans.
The changes we're seeing today in some ways seem shockingly swift, and in other ways rage-inducingly slow. After years of black-led activism, protest and organizing, the weeks of protests since George Floyd's killing have moved lawmakers to ban chokeholds by police officers, consider stripping law enforcement of the qualified immunity that has made it almost impossible to hold responsible officers who kill, and discuss moving significant parts of ballooning police budgets into funding for social services. Black Lives Matter, the group founded in 2013 by three black women, Patrisse Khan-Cullors, Alicia Garza and Opal Tometi, after the acquittal of Trayvon Martin's killer, saw its support among American voters rise almost as much in the two weeks after Floyd's killing than in the last two years. According to polling by Civiqs, more than 50 percent of registered voters now say they support the movement.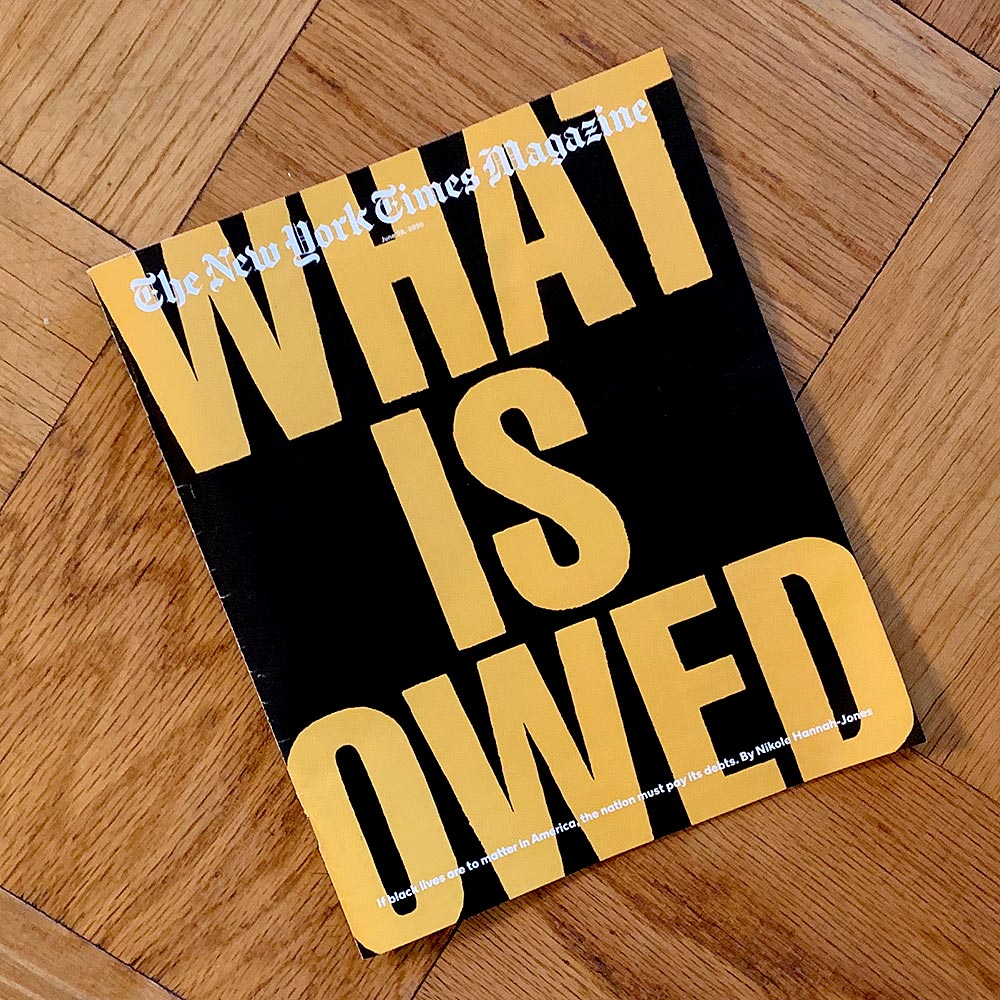 Which, with its
hand-painted and traffic-yellow-on-black type
, by New York
designer Bobby Martin
immediately conjured the Brooklyn mural I had just seen. And it made me think more about the way that this urgent message was being carried, circulated, by a precise, robust, and defined graphic language. In the seven years that the movement has moved from a hashtag to global rally, this graphic language has also *evolved,* producing new forms and signatures as it has moved from place to place, circling the world, and penetrating the consciousness of millions, no billions, of people. Let's get back to the article—I will be reading about half of this today in class and you will be able to read the rest online.
The cascading effect of these protests has been something to behold. The commissioner of the N.F.L., which blackballed Colin Kaepernick for daring to respectfully protest police brutality, announced that the N.F.L. had, in fact, been wrong and that black lives actually do matter. (Kaepernick, on the other hand, still has no job.) HBO Max announced that it would temporarily pull from its roster the Lost Cause propaganda film "Gone With the Wind" — which in classically American fashion holds the spot as the highest-grossing feature film of all time. NASCAR came to the sudden realization that its decades-long permissiveness toward fans' waving the battle flag of a traitorous would-be nation that fought to preserve the right to traffic black people was, in fact, contrary to its "commitment to providing a welcoming and inclusive environment for all fans, our competitors and our industry." Bubba Wallace, the only full-time black driver at the sport's top level, who had called on NASCAR to make the move, drove victory laps in an all-black stock car emblazoned with the words "#BLACKLIVESMATTER."
The resulting image is striking—literal circulation (and at full speed!) of the graphic hashtag as Bubba Wallace loops around the Martinsville speedway's oval track.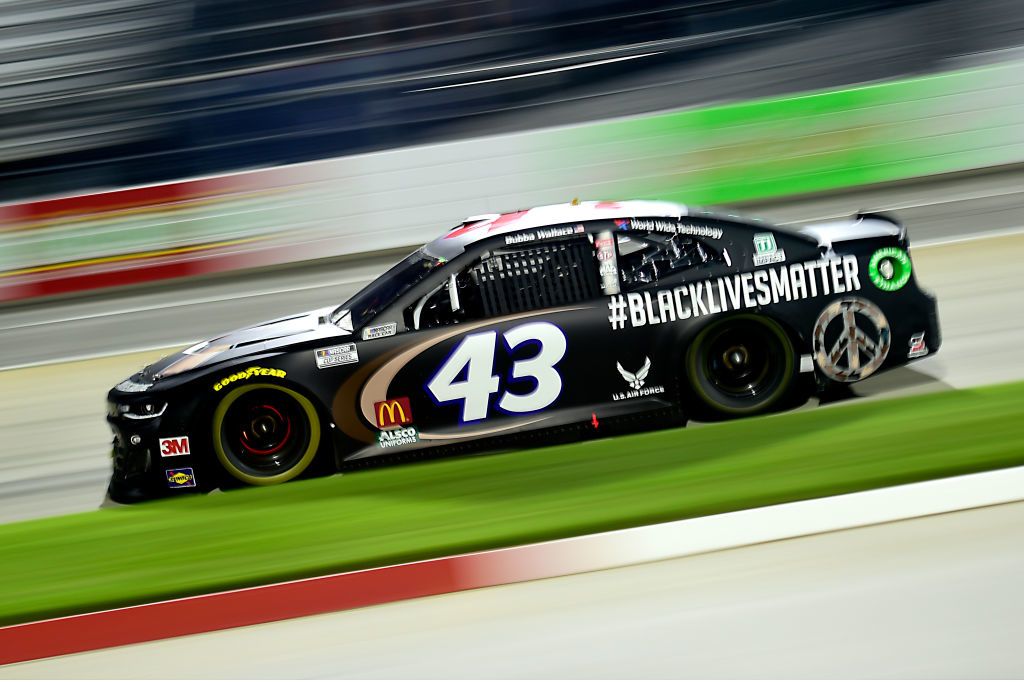 January 31, 2023
It feels different this time.
Readings
Resources
Exercise
Circular introductions
#BLM